Washington County, Florida Emergency Management
2300 Pioneer Road Chipley, FL 32428
Office Hours: Monday- Friday 8:00 a.m. - 4:00 p.m.
(850) 638-6203
Public Safety Director
Emergency Management Coordinator
ROAD UPDATES AND CLOSURES
Washington County Public Works has advised that Overpass Road, from Rock Hill Church Road to Cutchins Mill Road, is closed for cross drain replacement. If you have any questions, please call public works at 850-638-6280.
FDOT
Lane Restrictions on State Road 79
Chipley, Fla–Due to inclement weather conditions, work on State Road (S.R.) 79 in Washington County has been rescheduled. North and southbound traffic between Acy and Hightower roads will encounter intermittent lane closures from
7AM to 5PM Thursday, April 12 to finalize paving and striping for an upcoming lane shift.
Interstate
10 Resurfacing from east of S.R. 77 to the Jackson County Line- Drivers may encounter intermittent and alternating lane closures from 8PM to 6AM Monday, April 29 to Thursday, May 2 as crews continue drainage activities.
All activities are weather dependent and may be delayed or rescheduled in the event of inclement weather. Drivers are reminded to use caution, especially at night, when traveling through a work zone and to watch for construction workers and equipment entering and exiting the roadway.
The following Washington County roads are closed until further notice:
Clark Lane
Childress Lane
Deadning Road
Wages Pond Road
Radcliff Circle
Sheandoah Blvd from Concord Blvd to Maryfield Court Detour
(signs posted)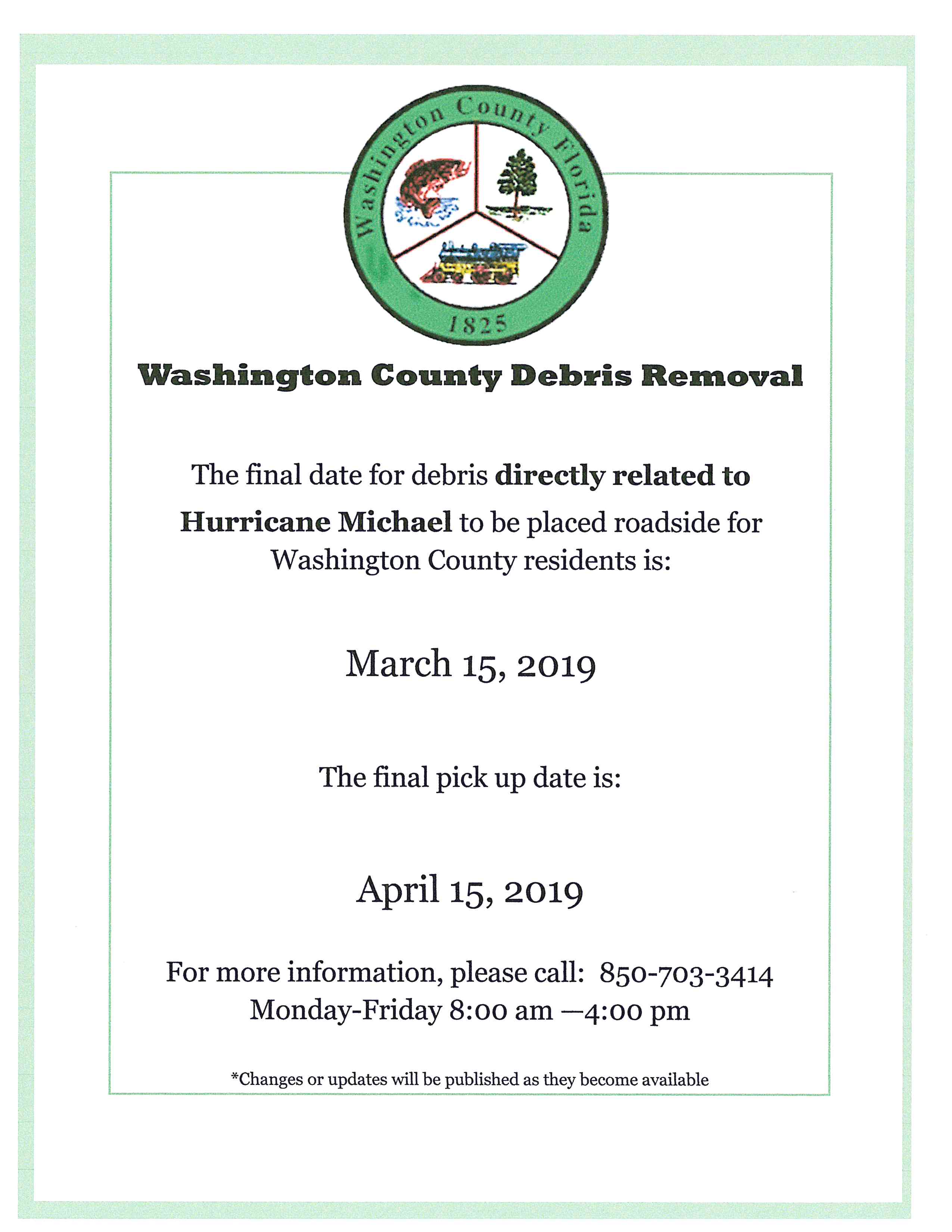 Debris removal and disposal services across Northwest Florida continue. Traffic flaggers are onsite to assist with traffic control. Motorists and pedestrian traffic are reminded to watch for workers and heavy equipment entering and exiting the roadway and expect traffic delays.
Published

20 March 2019
Florence and Michael won't have another chance to wreak havoc in the Atlantic Basin.
The names of these two storms, which caused extensive fatalities and damage from Florida north to Virginia last year, have been retired by the World Meteorological Organization's Region IV Hurricane Committee, which includes NOAA's National Hurricane Center.
The committee meets every year to review the previous hurricane season and discussion operational planning to improve public safety and protect lives in the next season. It held its 2019 session in Curacao.
Storm names are retired if they were so deadly or destructive that the future use of the name would be insensitive - otherwise, names are reused on a six-year cycle.
The committee also selected the replacement names for Florence and Michael as Francine and Milton, respectively. These names will first appear in the 2024 list of storm names.
Including these two, 88 names have been retired from the Atlantic basin list since 1953, when storms began to be named. The 2005 hurricane season has the most retired names – five – for one season.
Hurricane Florence, one of the deadliest and costliest hurricanes to ever hit the Carolinas, made landfall near Wrightsville Beach, North Carolina, on September 14 and moved slowly inland with heavy rain, storm surge, and record flooding. It caused at least 51 deaths and produced extensive flooding across much of the Carolinas and Virginia.
The next month, Hurricane Michael made landfall near Mexico Beach, Florida, on October 10, with sustained winds of 155 mph. This was the third most intense hurricane to make landfall in the contiguous U.S. based on central pressure, and the fourth most intense based on wind speed. It was also the most intense hurricane on record to make landfall along the Florida Panhandle, where it caused widespread devastation and farther inland across Georgia, the Carolinas, and Virginia. There were at least 45 fatalities blamed on the storm in the United States.
Emergency Supply Kit Supplies List:
· Water, one gallon of water per person per day for at least three days, for drinking and sanitation
· Food, at least a three-day supply of non-perishable food
· Battery-powered or hand crank radio and a NOAA Weather Radio with tone alert and extra batteries for both
· Flashlight and extra batteries
· First aid kit
· Whistle to signal for help
· Dust mask, to help filter contaminated air and plastic sheeting and duct tape to shelter-in-place
· Moist Towelettes, garbage bags and plastic ties for personal sanitation
· Personal hygiene items
· Wrench or pliers to turn off utilities
· Non-Electric can opener for food (if kit contains canned food)
· Local maps
· Cell phone with chargers, inverter or solar charger
Choctawhatchee River Readings:
Please click below for:
Emergency Supply Shopping List
Washington County Shelter Locations:
Chipley High School
1545 Brickyard Road, Chipley
Roulhac Middle School
1535 Brickyard Road, Chipley
Vernon Middle School
3190 Moss Hill Road, Vernon
Vernon High School
3232 Moss Hill Road, Vernon
Pet Owners
If you plan to evacuate but have pets you do not wish to leave behind you may follow this link for pet friendly hotels in our area: http://www.petswelcome.com/
Special Needs Registry
The Florida Division of Emergency Management, in coordination with local emergency management agencies, has developed a registry allowing residents with special needs to register to receive assistance during a disaster. The statewide registry provides first responders with valuable information to prepare for disasters or other emergencies.
To register, click on the following link: https://snr.floridadisaster.org/Signin?client=washington
or call 850-638-6203
Please Click Below For:
Washington County Local Mitigation Strategy
Helpful Links:
Evacuation Routes: maps.floridadisaster.org/county/EVAC_WASHINGTON.pdf

Florida Division of Emergency Management: floridadisaster.org
American Red Cross: redcross.org
Chipley Florida Weather: weather.com/weather/today/l/32428
National Weather Service Forecast Office: weather.gov/tae
The Weather Channel: weather.com
Weather-Ready Nation: nws.noaa.gov/com/weatherreadynation