Washington County, Florida Emergency Management
2300 Pioneer Road Chipley, FL 32428
Office Hours: Monday- Friday 8:00 a.m. - 4:00 p.m.
(850) 638-6203
Public Safety Director
Emergency Management Coordinator
ROAD UPDATES AND CLOSURES
The following Washington County roads are closed until further notice:
Childress Lane
Deadening Road
Wages Pond Road
Sheandoah Blvd from Concord Blvd to Maryfield Court Detour (signs posted)
In Chipley City Limits-5th Street and Forrest Avenue at the intersection will be closed beginning Monday, January 18, 2019 at 8AM for the 5th Street Drainage Projection. This is anticipated to take approximately 3 days.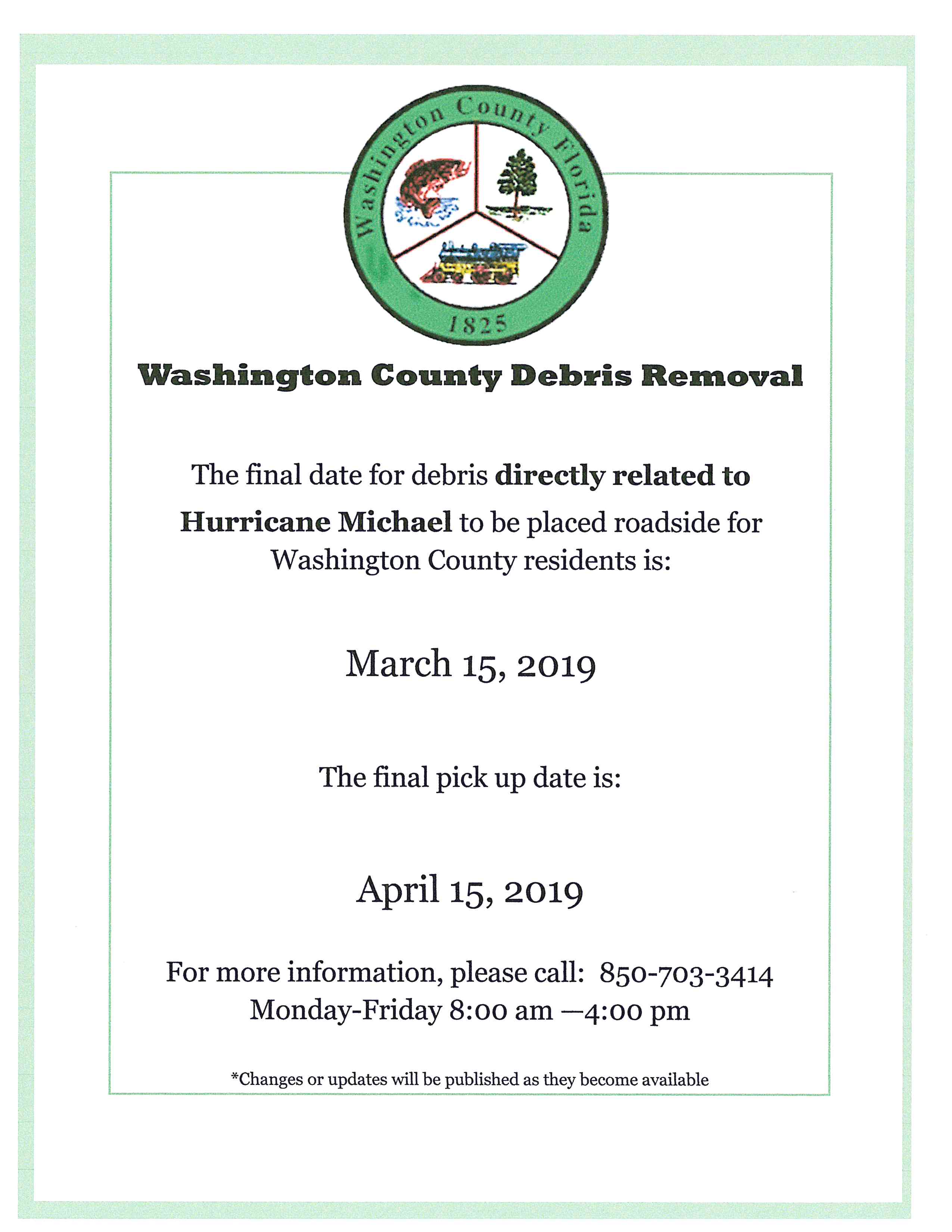 Debris removal and disposal services across Northwest Florida continue. Traffic flaggers are onsite to assist with traffic control. Motorists and pedestrian traffic are reminded to watch for workers and heavy equipment entering and exiting the roadway and expect traffic delays.
Emergency Supply Kit Supplies List:
· Water, one gallon of water per person per day for at least three days, for drinking and sanitation
· Food, at least a three-day supply of non-perishable food
· Battery-powered or hand crank radio and a NOAA Weather Radio with tone alert and extra batteries for both
· Flashlight and extra batteries
· First aid kit
· Whistle to signal for help
· Dust mask, to help filter contaminated air and plastic sheeting and duct tape to shelter-in-place
· Moist Towelettes, garbage bags and plastic ties for personal sanitation
· Personal hygiene items
· Wrench or pliers to turn off utilities
· Non-Electric can opener for food (if kit contains canned food)
· Local maps
· Cell phone with chargers, inverter or solar charger
Choctawhatchee River Readings:
Please click below for:
Emergency Supply Shopping List
Washington County Shelter Locations:
Chipley High School
1545 Brickyard Road, Chipley
Roulhac Middle School
1535 Brickyard Road, Chipley
Vernon Middle School
3190 Moss Hill Road, Vernon
Vernon High School
3232 Moss Hill Road, Vernon
Pet Owners
If you plan to evacuate but have pets you do not wish to leave behind you may follow this link for pet friendly hotels in our area: http://www.petswelcome.com/
Special Needs Registry
The Florida Division of Emergency Management, in coordination with local emergency management agencies, has developed a registry allowing residents with special needs to register to receive assistance during a disaster. The statewide registry provides first responders with valuable information to prepare for disasters or other emergencies.
To register, click on the following link: https://snr.floridadisaster.org/Signin?client=washington
or call 850-638-6203
Please Click Below For:
Washington County Local Mitigation Strategy
Helpful Links:
Evacuation Routes: maps.floridadisaster.org/county/EVAC_WASHINGTON.pdf

Florida Division of Emergency Management: floridadisaster.org
American Red Cross: redcross.org
Chipley Florida Weather: weather.com/weather/today/l/32428
National Weather Service Forecast Office: weather.gov/tae
The Weather Channel: weather.com
Weather-Ready Nation: nws.noaa.gov/com/weatherreadynation